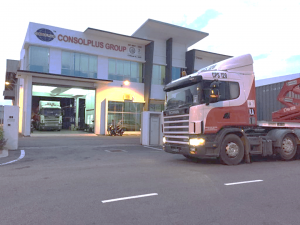 Consolplus Sdn. Bhd. was established in July, 1998 to represent as full service freight forwarding company in Malaysia. We believe that quality and reliable products and services are key to any successful international business. That is why we provide ourselves in providing you with the most reliable, cost effective and personalized service in the industry.
Consolplus Sdn. Bhd. offers a full range of transportation and logistics services designed to meet the expanding needs of our customers changing markets and requirements. These services include sea and air freight, warehousing, cargo distribution, consolidation, trucking, custom clearance brokerage, shipping agency and marine insurance services. Built upon the knowledge and experience of veteran transportation professionals, we have established itself as premier service Total Logistics Company.
Our track record working with the car importing and exporting and also project cargoes prove that our service is superior, it is a reputation that we are establishing with customer in all industries.
Since its commencement, we have devoted vast resources into developing a network of top quality office and agencies around the world of facilitate the constant flow of goods and monitoring of all our shipment, create and backdrop for our expedient and accurate logistics services.
We get benefits from this network and allow us to provide an outstanding service to our customer to every destination. You will benefit from our most personnel attention in every stage of the shipment and consignment.
Our steady growth is a testament to the quality of our professional staffs.

Consolplus Sdn. Bhd. does not aim to be the largest forwarder in size, but rather prides itself to be the company with the best communication and personalized service. We can provide you with a complete support for your operations and along with our global network this allows us to customize your logistical program with great flexibility.
We are team players and we understand your needs and goal. We invite prospective customers to make their own evaluation of our service. We have developed and implemented our quality management system in order to improve the overall performance, maintain a high-level of quality and strong customer service and to provide a sound basis for sustainable development initiatives.
Our decision to work towards ISO 9001 accreditation demonstrates the commitment to providing a high-quality and consistent products and services to our clients and our ongoing investment in services and development.
Our attention does not end at the delivery of the airport and seaport but we follow through until the receipt of the goods by the final customer.

Consolplus Sdn. Bhd. committed to excellence by providing personalized, world class service and tailoring logistics solutions to customer's needs. We aims to win loyal customers and grow with them by allowing our customers to focus on their business. To achieve this goal, we have focused its investment in the finest talent and in the latest information technology enabling us to fulfill commitments to our greatest asset of all our customer.
Since the beginning, we have been developing services of today's technological needs with a fully automated and electronic system that enable us to connecting to custom office, concerning agencies, banking, port system to track and clear the cargoes from the place of origin to its final destination.
YOUR CARGO EXPRESS MOVER with global connection
Consolplus Sdn. Bhd.
Consolplus Shipping Sdn. Bhd.
Consolplus Freight Services Sdn. Bhd.